Gold Coast house prices lift
While the COVID-19 crisis has hit house prices across the country, there's one major region where they've risen – the Gold Coast.
And experts believe the pandemic is what's actually caused the healthy 1.5 per cent lift over the June quarter, with so many Sydneysiders and Melburnians taking a long hard look at their lives and deciding the Goldie lifestyle is for them.
The price jump is a clear contrast to other eastern capitals, with Sydney house prices down 2 per cent in three months and Melbourne down 3.5 per cent, according to the latest Domain House Price Report.
"We've never before seen so much interstate migration from the southern states," said Michael Kollosche of property agency Kollosche.
"Maybe it's the ageing population, but they're re-evaluating their lives and want to buy because of the lifestyle, the warmer climate, the relative affordability and knowing, as a result of this time, they can still work remotely if they want to.
"High net worth individuals who usually to travel to Europe and Aspen all the time are now coming here for their holidays instead and rediscovering how wonderful the area is. So they're moving up here or buying second homes on the beachfront or riverfront."
The median house price on the Gold Coast now sits at a new record $660,000, up 1.5 per cent over the June quarter when the coronavirus crisis dominated the market, the report found. Over the 12 months to June, prices are up 5 per cent.
It's a standout compared to the national slide in house prices of 2 per cent and even the Brisbane region's fall of 2.1 per cent over the same quarter – despite the federal government's stimulus measures to support the economy, such as HomeBuilder, JobKeeper and JobSeeker, plus the banks offering mortgage holidays.
Many predicted the Gold Coast might suffer badly, given the interstate border closures, the fall in overseas tourists and Chinese buyers being locked out of the country. But the results have bucked all expectations, with continuing high demand and a shortage of stock likely to drive prices still higher.
The sunshine state is now open for most NSW residents to visit but with Victorians still barred, some have even been willing to purchase property sight-unseen.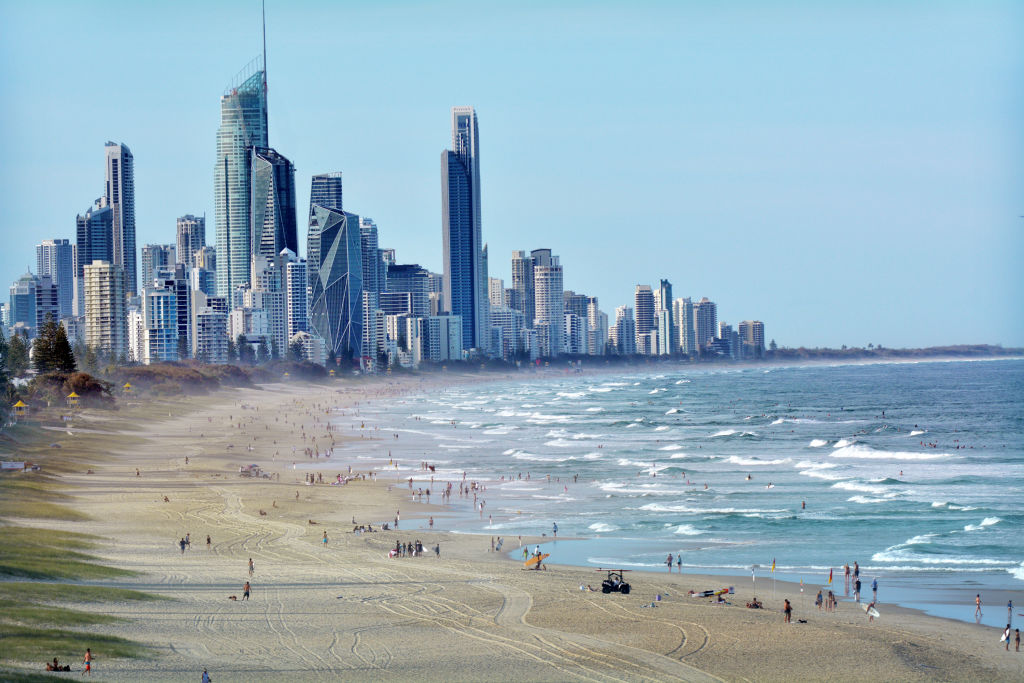 Domain senior research analyst Nicola Powell said many buyers were looking at sea-change hotspots.
"Despite the devastating impact of the coronavirus pandemic and bushfires, housing values are steady, illustrating the desirability of coastal lifestyle regions," Dr Powell said.
"There's been a distinct lure towards the sea-change lifestyle regions away from the larger capital cities.
"The affordability of the area is also attractive, particularly for those planning their retirement who are maybe buying in advance, or who decide now is the right time to relocate."
Even apartment prices on the Gold Coast have shown a minimal fall of just 0.3 per cent to a median of $420,000 over the quarter, compared to the sharper national apartment price slide of 2.2 per cent, to a median of $560,800.
As a result of such strong demand and good prices, there have been some stellar sales. A sprawling mansion on the Sovereign Islands, for example, has just sold for $6.6 million, the highest sale of the enclave this year, hot on the heels of another sale for $5.5 million in the same area.
The $6.6 million home has 1682 square metres of space over four levels, lots of entertainment and living areas, a pool, pontoon, rooftop pavilion, cinema and gym at 91-93 The Sovereign Mile. It was bought by a local.91-93 The Sovereign Mile, Sovereign Islands QLD
"We have quite a few buyers looking for property now, and particularly from Sydney and Victoria, but we do have a shortage of stock," said Ivy Wu of Ivy Realty. "The inquiry level has been so high.
"COVID-19 has made people decide to chase the lifestyle and the weather. The pandemic has left many people not doing well, but others are doing very well in business despite it."
Many are even buying property sight unseen as they've been unable to get to the Gold Coast while the Queensland border was closed, and travel is still difficult.
Buyer's agent Tony Coughran of Simply Gold Coast said he'd been representing a Melbourne buyer who's just snapped up a home on Broadbeach for $2.5 million without stepping foot in it. He bought it by phone at the on-site auction.
"He couldn't even get here for the pre-settlement inspection but he wanted a home away from home so he can retreat to the Gold Coast whenever he wants," Mr Coughran said. "He can't wait to be allowed out of Melbourne to get here.
"We've got another Melburnian wanting to buy acreage and have that sense of freedom he can't get at home, but could get from relocating to the Gold Coast. A lot of other people have a five-year plan to buy an investment property then move here but who, because of the circumstances now, end up moving here more quickly than they planned."
Expats are also moving back to Australia and many are choosing the Gold Coast. Mr Coughran has also just bought a property in Currumbin in the $700,000s for a client in Monaco. "Prices are good, and people have change left over to live on or buy an investment property," he said.
The lift in prices has given everyone confidence in Gold Coast property, says Mr Kollosche. "When there's more freedom of interstate movement, the region will receive a big boost in tourism and hospitality, and even more people will realise it's one of the best places in the world to be."
source: domain